Keeping it real: Banksy exhibition in Amsterdam
Keeping it real: Banksy exhibition in Amsterdam
Today, saturday june 20th, a Banksy exhibition opened in Amsterdam, with over forty prints and fifteen 'originals' on view, at Lionel Gallery. It is the first big - though unauthorized, and containing only secondary market works - Banksy show in Holland, and there's plenty of great pieces nailed to the walls that have never been shown to the public before.
Selling street art in gallery spaces: it has always caused heated debates, but why? Is it necessary to 'keeping it real', by working in the streets only, dismissing potential fans/collectors to own a piece of the action? I would say: no. Some of the best 'street' artists (a term often misused: it's art created and shown in public spaces) have made the transition to making 'gallery pieces'. We all need to live, don't we, and what's wrong with working both on and off the streets, adjusting the art to the space available? Banksy has - from the early days on - supplied his fans with - friendly priced - prints and works in edition. Some great street art (often 'interventions') can never be reproduced, and works only in the streets. This piece from Russian artist P183 (who died tragically, at a very young age) is brilliantly executed:
Banksy has done many great interventions himself, and these remain some of his best works.
When Banksy himself staged shows, elephants, rats and lots of red paint were involved, often in rundown spaces.
(St. Pauli)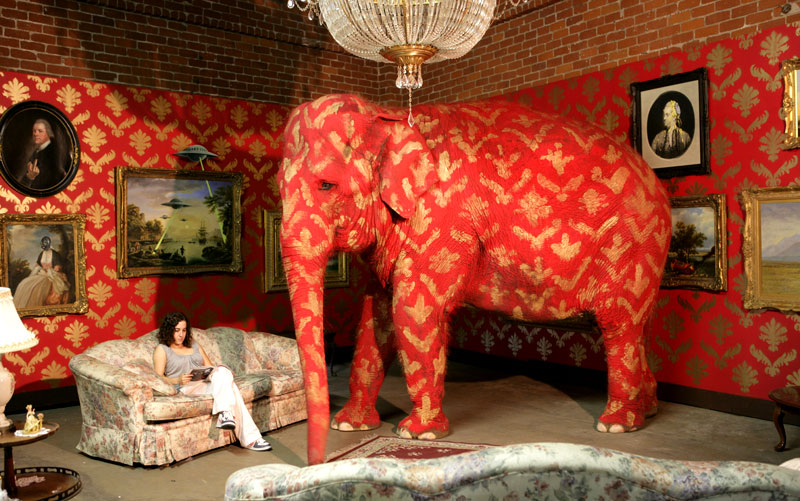 (Los Angeles)
(New York)
(Bristol Museum)
It's all pretty simple: what was made for the street, should stay in the street. Banksy found a solution for people stealing or ripping off pieces that he created outside. Pest Control - his agency - simply does not authenticate these pieces, making them worthless. Of course people still pay for un-authenticated works, but it's like buying looted stuff. A no go area. Then how about secondary market shows, also often seen as selling out (by collectors/galleries)? All art that becomes popular, be it Banksy or Warhol, in the end becomes a commodity, something that's traded, swapped or auctioned: people that stepped in early (lets say: those buying pieces from Banksy around 2000) got themselves a great piece or print for almost nothing. It's only since 2005 that Banksy's prices substantially raised, now often reaching sky high results at auction and at galleries. But what's wrong with making people pay a lot when they stepped in late, let's say: today? The answer usually is: because the artist does not profit from people selling/buying secondary market pieces. True that, but there's also Droit de suite (French for "right to follow"), a right granted to artists or their heirs, in some jurisdictions, to receive a fee on the resale of their works of art. This should be contrasted with policies such as the American first-sale doctrine, where artists do not have the right to control or profit from subsequent sales. In Banksy's case, it's simple. When he sells his work, through Pest Control, he gets the full price. Banksy does not work with galleries, meaning that those who do sell his art either sell secondary works, or have a direct line with PC, obtaining works straight from the studio. Back to street vs gallery. Some artist, like JR, ROA, Adam Neate and Barry McGee have made succesful transitions from street to gallery (or street art to fine art). Adam Neate left around 6000 pieces (works on board) on the streets, intended for people to pick up and take home. Currently, he only makes gallery pieces. ROA creates big murals and outdoor pieces, and works on found objects (wood, locker doors) for his gallery pieces. JR sells work on wood or corrugated metal in order to finance his big outdoor operations. Barry McGee creates huges murals outside ánd on the inside of galleries and museums.

(Adam Neate - pizza box)

(Adam Neate - mural)

(Adam Neate - Gallery piece)

(Roa - mural)

(Roa - Gallery piece)

(JR - mural)

(JR - outdoor)

(JR - gallery piece)

(Barry McGee - mural)

(Barry McGee - installation in Lyon)

(Barry McGee - cluster)

(Barry McGee - Boston)

(Barry McGee - Boston)

(Barry McGee - gallery pieces)
Banksy at Lionel gallery: almost all the prints Banksy ever made are on view, and some great - and rarely seen or shown - originals. Prices range from 4000 euros to 1 million euros, and everything in between. Here are some pieces on view:

(Rude Copper)

(Tortoise Helmet)

(Forgive us our Trespassing)
"Art should comfort the disturbed and disturb the comfortable,' Banksy said.
Go and see it when you can.
Gepost op: 2015-06-20 in:
kunst
---
A blog about hot art, sexy publishing, indie music and the roaring eighties...