Food for Art: on chef & collector Mark Hix and neon art
Art
I had never heard of Mark Hix before this week.
I am not familiar with chefs from England, aside from the ocassional chef I witness cooking at Saturday Kitchen Live, a program I love watching on saturday morning, if only for the 'Greedy Italians', Keith Floyd (God rest his soul) and the omelette challenge (the current record, with three eggs, is around 15 seconds).
Mark Hix appeared on Saturday Kitchen Live, preparing ribs, but that's not the point now. I certainly got intrigued when I read an interview with him on Larry's List, penned by Claire Bouchara.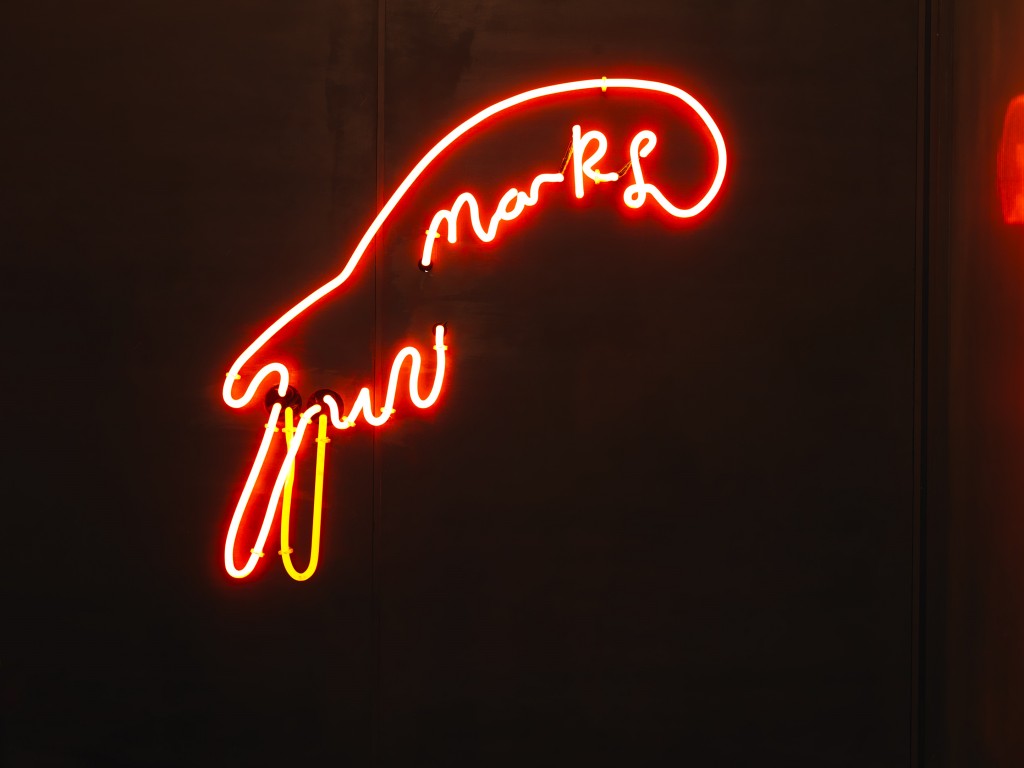 (Marks Bar by Tracey Emin, courtesy of Jason Lowe) Hix talks about his art collection, which consists of many works by Young British Artists such as Damien Hirst and Tracey Emin, but he also amassed works by Antony Gormley, Harland Miller, Michael Landy and Polly Morgan. He owns eight restaurants, and displays many of the art he collected in the different venues. As in the old days, when artists traded their work with restaurant owners, dentist, barkeepers and plumbers, Hix, "from his party days in East London, developed a wide network of artists with whom he remains close friends with today, with the likes of Tracey Emin whom he taught how to cook, and Damien Hirst who he is also reputedly known to have on speed dial."
He also gave some advice: "Can you name three young British emerging artists who should be on our radar?" "Antony Micallef, Danny Fox and a 2013 HIX Award finalist Oliver Durcan. He's making a lot of movement for such a young guy." And I liked this: "There are more and more restaurants transforming into art galleries. Do you find it to be a technique to get the best artworks by the best artists? No, just go with what you love and are passionate about, that tends to be what people relate to, what you love, others will love. Why is it that art and cuisine seem to pop up in the same conversation today? Because we are all looking to be stimulated, food and art are the perfect tools to do that." I was in London this week, where I met my best friend in the publishing business, the distinguished Mr Jamie Byng, publisher at Canongate.
We had a great lunch at The Shed and we came to talk about an art show with neon sculptures that he had visited, but he could not remember the name of the artist who made this work:
It is, of course, as we all know, a work by Kerry Ryan (retailing at 4500 pounds + VAT). I went to Brewer Street, looking for the venue, which turned out to be thé hot new gallery in London, called Lights of Soho. Here's their statement, and guess who's involved: "Following a complete refurbishment, London's newest art gallery and members lounge Lights of Soho opens with group exhibition 'City Lights'. The space operates as a cultural hub for Soho's creative community and is the global home of creative neon and light art formats. The gallery also offers food developed in conjunction with celebrated chef Mark Hix, and includes a member's lounge and an online art shop. Lights of Soho will bring together established and next generation artists as well as a programme of film, fashion and music events for its members." I did not try the food, but I loved some of the works on display. These were some of my favorite works:
(Chris Levine, Kate's Light)
(Rob & Nick Carter, Topless)
(Natasha Archdale, Unsubscribe)
(And another piece by Kerry Ryan, Detour - Fuck It.) From the press release:
"City Lights' brings together an extensive mix of reputable and distinguished light art artists, alongside the up and coming. It is inspired by the feelings of excitement and possibility when encountering 'the new'. With the support of renowned artists, Lights of Soho will pave the way for a creative club in the heart of London. As the first show to feature both Tracey Emin and the late Chris Bracey, it will be an iconic moment with two pioneers in neon art placed side-by-side in a major exhibition. Tracey Emin, states,"Lights of Soho is doing something exceptional. People take neon for granted but it's a dying craft. There are many new ways of lighting up the town but it's nice to be able to see and concentrate on the old traditional methods." And another interesting coincidence: according to Wikipedia 'popular British television chef, Keith Floyd lunched at Hix Oyster and Fish House hours before he suffered a fatal heart attack in September 2009. After Floyd's death, Hix offered a special on the menu called Keith Floyd's Last Lunch' which was seen by some as an appropriate tribute and was criticized by others.'
Go and see "City Lights" if you can, it runs till july 19th, and Lights of Soho is located at Brewer Street 35 in London.