Getting rid of the Albatross: On Public Image Limited
Thoughts on music
Oh, yes! I bought tickets for the upcoming concert of Public Image Limited in Paradiso, Amsterdam, on october 7th.
I was never really into punk music, but I always embraced the punk attitude: do it yourself, anti establishment, resistance. I remember, at the age of 12 (1977), the first photographs of punkbands, especially The Sex Pistols, filtered through the mainstream media, even reaching Boskoop, the rural village, famous for its nurseries, where I grew up. My (leftwing) friends and I also started a band, of course, using buckets for drums - it was all pretty basic.
In 1982 I moved to Leiden, living in squats for some years, and listening to music, and seeing bands, became a fulltime occupation. I saw bands performing on a daily basis, played music myself, listening to records all day long, searching for music that stood out: Wire, This Heat, Tuxedo Moon, Massacre, Minimal Compact - but one of my favorite bands remained Public Image Limited, especially the Metal Box album.
I loved the sound of the bass on that album, courtesy Jah Wobble, and tried to imitate it, just like all drummers tried to copy the banging sound of the drums on The Flowers of Romance. The real star of the band, however, was Keith Levene, the guitar player. Next to John Lydon, of course.
The cynical texts, the hypnotic beats, the 'impossibly deep' bass, the earsplitting guitar riffs, the adventurous tracks - it was all pitch perfect.
Here's some info I ripped from Wikipedia, for proper background info.
Following the Sex Pistols' break-up in 1978, John Lydon spent three weeks in Jamaica with Virgin Records head Richard Branson, in which Lydon assisted Branson in scouting for emerging reggae musicians. Branson also flew American band Devo to Jamaica, aiming to install Lydon as lead singer in the band. Devo declined the offer.
Upon returning to England, Lydon approached Jah Wobble (né John Wardle) about forming a band together. The pair had been friends since the early 1970s when they attended the same school in Hackney (both belonged to a circle of friends Lydon informally dubbed "The Gang of Johns" – John Lydon, John Wardle, John Gray, and John Simon Ritchie, a.k.a. Sid Vicious). Lydon and Wobble had previously played some music together during the final days of the Sex Pistols. Both had similarly broad musical tastes, and were avid fans of reggae and world music. Lydon assumed, much as he had with Sid Vicious, that Wobble would learn to play bass guitar as he went. While that had proven a fatal assumption with Vicious (Lydon cites Sid's musical inability as a prime reason for the Pistols' break-up), Wobble would prove to be a natural talent. Lydon also approached guitarist Keith Levene, with whom he had toured in mid-1976, while Levene was a member of The Clash. Lydon and Levene had both considered themselves outsiders even within their own bands. Jim Walker, a Canadian student newly arrived in the UK, was recruited on drums, after answering an ad placed in Melody Maker.
PiL began rehearsing together in May 1978, although the band was still unnamed. In July 1978, Lydon officially named the band "Public Image" (the "Ltd" was not added until several months later), after the Muriel Spark novel The Public Image.
PiL debuted in October 1978 with "Public Image", a song written while Lydon was still a member of the Sex Pistols. The single was well received and reached number 9 on the UK charts, and it also performed well on import in the US.
Public Image: First Issue
(1978)
The photography for the album was shot by Dennis Morris who also created the iconic PiL logo. In preparing their debut album, Public Image: First Issue, the band spent their recording budget well before the record was completed. As a result, the final album comprised eight tracks of varying sound quality, half of which were written and recorded in a rush after the money had run out. Wobble had also beaten up producer Bill Price's assistant engineer (Price, with John Leckie, had secured the tight sound of the "Public Image" single), inciting Price to ban the group from their preferred Wessex Studios. The album was considered ground-breaking on its release in December 1978. Grounded in heavy dub reggae, Wobble's bass tone was called "impossibly deep" by contemporary reviews. Levene's sharp guitar sound, played on an aluminium Veleno guitar, was imitated most notably by The Edge of U2. Levene would later state :
"I've had questions asked of me as direct as 'What do you think of the fact that The Edge ripped off your sound?' and I just say 'Good luck to him'. Some people say 'A lot of people use your sound. Do you resent their position as opposed to yours?' Actually I don't, I put it down to good taste."
The single "Public Image" was widely seen as diatribe against Malcolm McLaren and his perceived manipulation of Lydon during his career with the Sex Pistols. The track "Low Life" (with its accusatory lyrics of "Egomaniac traitor", "You fell in love with your ego" and "Bourgeoisie anarchist") has also been regarded as an attack on McLaren, although Lydon has stated that the lyrics refer to Sid Vicious. The two-part song "Religion" refers contemptuously to Roman Catholicism; Lydon came up with the lyrics when he was part of the Sex Pistols but he claims the other members of the band were reluctant to use them. The closing track "Fodderstompf", heavily influenced by dub, comprises nearly eight minutes of a circular bass riff, played over a Lydon/Wobble double act lampooning public outrage, love songs and teenage apathy. The track culminates with the sound of a fire extinguisher being let off in the recording studio, as Lydon had lit a fire whilst in a weird trance-like state during the recording session. The first album was subsequently renamed as First Issue. "PiL was the simple thing of four different people doing different drugs at different times," Wobble observed to Select. "It was only in any way together for the first two months of its existence. We had a fuckin' good drummer called Jim Walker, but he fucked off after a few months [in early 1979] and it just fell apart. Somehow it had sort of death throes that produced a couple of blinding albums."
Metal Box (1979)
Metal Box was originally released as three untitled 45-rpm 12-inch (30-cm) records packaged in a metal box resembling a film canister with an embossed PIL logo on the lid (it was later reissued in more conventional packaging as a double LP set, Second Edition), and features the band's trademark hypnotic dub reggae bass lines, glassy, arpeggiated guitar, and bleak, paranoid, stream of consciousness vocals. Metal Box is starker than First Issue, more spread out and uncompromising, and scattered with bits of ambient synthesiser. The design for Metal Box was the brainchild of Dennis Morris, photographer and designer.The departure of Jim Walker made way for a series of new drummers. Auditions were later held at Rollerball Studios in Tooley Street,London Bridge. David Humphrey was their second drummer, who went on to record two tracks at Manor Studios in Oxford, "Swan Lake" and "Albatross", for Metal Box. "Death Disco" (aka "Swan Lake") was released as a single in 1979 and reached No. 20 in the charts. The majority of the drumming on the album was provided by Richard Dudanski, PiL's drummer from April to September 1979. He was replaced by Karl Burns (formerly and latterly of the Fall). Following sessions took place in which Martin Atkins would show up for an 'audition' and discover himself in the middle of a recording session with the tape rolling. The recording was released on Metal Box as "Bad Baby". Atkins was PiL's drummer from 1979 to 1980 and 1982 to 1985.
PiL had a series of contentious live shows and behind-the-scenes controversies during their first American tour in 1980. Their appearance at the Olympic Auditorium in Los Angeles was fraught with hostile exchanges between Lydon and the audience. Tensions offstage mounted as well. PiL demanded that they work only with local promoters, bucking the promotional machinery of Warner Bros. Records, their American label. For both the Los Angeles and San Francisco appearances, PiL agreed to work with David Ferguson and his independent CD Presents label. This business arrangement pitted the band and CD Presents in a pitched battle against San Francisco-based promoter Bill Graham, who negotiated with concert venue owners and San Francisco government officials to deprive PiL of a concert location. Fearing public outbursts if the show was cancelled, San Francisco city officials instead opted to allow the CD Presents-sponsored event to proceed.
On 17 May 1980, the group appeared on the teenage music show American Bandstand. PiL abandoned lip syncing and invited the audience onto the stage while the music played. Host Dick Clark handled the unplanned stage invasion graciously. In June 1980, Lydon and Levene were interviewed on NBC's The Tomorrow Show by host Tom Snyder. The interview was typically combative (Lydon) and awkward (Levene), and ended with Snyder apologizing to the audience: "The interesting part is, is that we talked to these two gentlemen a couple of weeks ago, a pre-interview, apparently that went all just fine and it made great sense, and what I read about them this afternoon, but somehow it got a little lost in translation tonight. But that's probably my fault." Lydon re-appeared on Tom Snyder's show in 1997, and Snyder apologized about what happened that night. Lydon shook it off by saying "it's just entertainment", and the interview proceeded as normal.
Paris au Printemps (1980)
(artwork John Lydon) 1980 also saw the release of PiL's first live album, Paris au Printemps – also the group's last album featuring Jah Wobble. On this release's album sleeve, the band's name and all of the track titles were translated into French. The album cover was a painting by John Lydon depicting himself, Keith Levene and Jeannette Lee.
The Flowers of Romance (1981)

Jah Wobble left the band, and was not formally replaced. The resulting album was notable for its almost complete lack of bass parts. Martin Atkins, who had initially joined at the tail end of the Metal Box sessions, was re-recruited to drum on The Flowers of Romance. Levene had by then largely abandoned guitar in favour of synthesiser, picking up a technique that was unique, although perhaps owing a debt to Allen Ravenstine of Pere Ubu. Atkins' propulsive marching band-style drumming, the lack of bass and guitar, and Lydon's increasing lyrical abstraction made this LP a difficult listen for rock fans, and contemporary reviews expressed great confusion. The record consists mostly of drums, vocals, musique concrète, and tape loops, with only gestures toward bass (played by Levene) and keyboards. Its forceful drum sound was widely copied, notably by Phil Collins, though the drum sound was initially influenced by Collins' own work on Peter Gabriel III. The title "Flowers of Romance" was the name of a short-lived band featuring Keith Levene and Sid Vicious in 1976, as well as a line from the Sex Pistols' "God Save The Queen". The track "Francis Massacre" was partially inspired by Lydon's incarceration in Mountjoy Prison and the track "Hymie's Him" began life as an instrumental piece intended for the score of Michael Wadleigh's 1981 werewolf film Wolfen. In May 1981, PiL appeared in New York at the Ritz, playing from behind a projection screen. Lydon, Levene and Jeanette Lee were joined by a new drummer, 60-year-old jazz player Sam Ulano, who had been recruited for the gig from a bar, having apparently never heard the band before. While something reminiscent of but clearly different from PiL improvised behind the screen, PiL records were played simultaneously through the PA. Lydon taunted the audience, who expected to hear familiar material (or at least see the band), and a melée erupted in which the audience pelted the stage with bottles and pulled on a tarp spread under the band, toppling equipment. The promoters cleared the hall and cancelled the next night's show, and a local media furore ignited in New York.
After 1983 I lost interest, the music became mainstream and I was allergic to commercial success back in the days (that changed), so This Is Not A Lovesong marked the end of PIL, at least for me. I still can't stand that track, by the way. In 2009 PIL resurrected, and they sound pretty good. The old members (Wobble, Levene, Lee) have all left the building, but the sound remains fresh and Lydon's seems in good shape. Here's the current line-up:
Former:
Other personnel
Dave Crowe - secretary (1978-1981)
Jeannette Lee - videographer (1979-1983)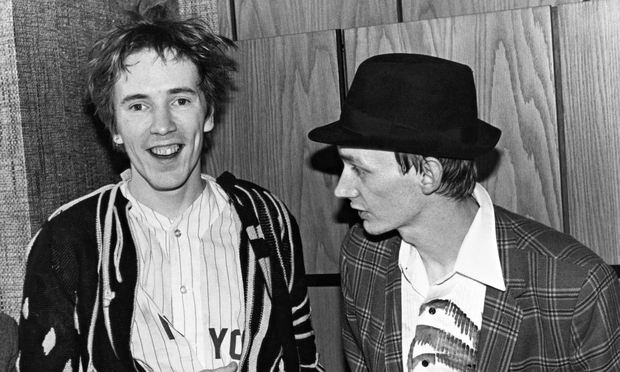 (Lydon and Levene)
Can't wait to see them in october!